It's no secret that modern outdoor furniture ideas are on trend. Whether you're looking for a way to make your patio look more contemporary or add some sleek style to your garden, there are plenty of options.
Whether you're looking for inspiration or just some good ideas, here are some modern outdoor furniture ideas that will help you create the perfect space for entertaining or relaxing.
Get a Cozy Chaise Lounge
A chaise lounge is an essential piece of modern outdoor furniture. A chaise lounge is a long, soft piece of furniture that allows you to lay back and relax with ease.Chaise lounges are available in various styles, colors, and sizes to fit your needs and style preferences.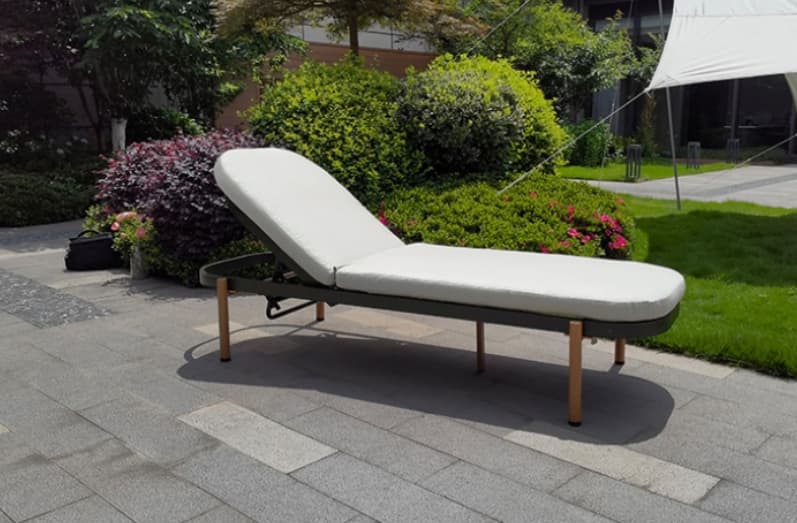 Chaise lounges are also available in different materials, such as metal frames with upholstery fabric covers, wood frames with upholstery fabric covers, or even all-wood construction.If you want something more unique than what is offered at your local home goods store, then consider getting one custom-made for your space.
Upgrade to a Daybed for Ultimate Relaxation
A daybed is an excellent addition to any outdoor space. Daybeds are versatile, so they can be used for sitting or lying down, making them an ideal choice if you have limited space.They're also a good option if you're looking for furniture that is both comfortable and stylish.
They are often considered to be used indoors, but they can also be used outdoors in your backyard or on your porch. If you want to create a relaxing environment where you can hang out with friends or family, adding one will make the perfect spot.
Make the Most of Your Area With an Outdoor Sectional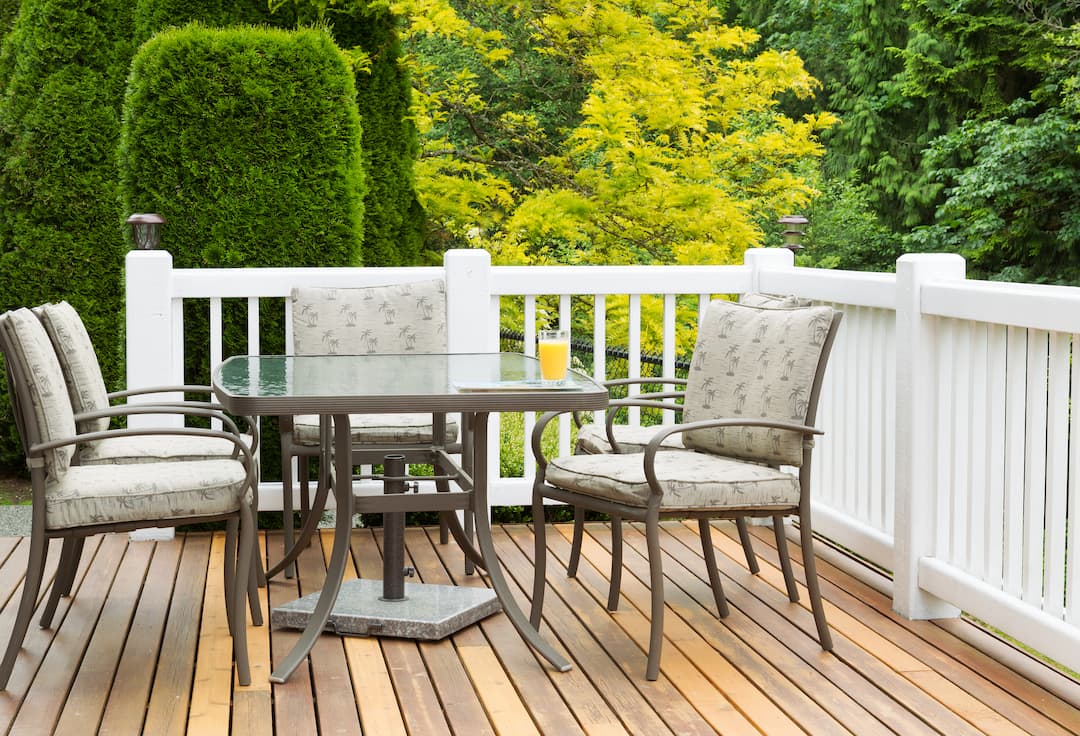 Don't let your outdoor space go to waste. While it may seem like there's not much room outside, you can maximize the area by using a sectional that allows you to easily switch up its configuration and use.
A sectional is an excellent choice for anyone looking to maximize their outdoor space while still making sure they have plenty of options when it comes to seating arrangements. Sectional furniture pieces are great because they're versatile enough to be used indoors and outdoors.
They can be arranged in any way you'd like and fit into smaller spaces, but they also offer enough seating options so everyone can have space at your next backyard holiday celebration.They're also built with comfort in mind—so even if someone has to move around during the party or if there's another activity going on, no one will complain about being stiff from sitting still too long.
Keep It Classic With Wicker Seating
Wicker is the way to go if you're looking to add some classic outdoor furniture to your space.Wicker is a natural material, and as such, it is comfortable and durable. It comes in various shapes and sizes, so it's easy to find something that will fit any outdoor space.
Wicker is also a good choice for an outdoor space that gets a lot of sunlight—it won't fade or warp over time as plastic furniture can, and if you keep it covered up when not in use, it'll last even longer.
Wicker seating isn't just for out on the patio or deck; there are plenty of ways to incorporate wicker into your home décor. You can add some colorful cushions for extra style points.
Give Your Patio a Modern Vibe With Geometric Furniture
The geometric shape is here to stay if you're looking for modern patio furniture that's on trend. The bold lines are great for modernizing any space and are especially fitting for patios because of their airy feel.The shape also lets in more light than traditional styles, which makes this style perfect for patios with a lot of natural light.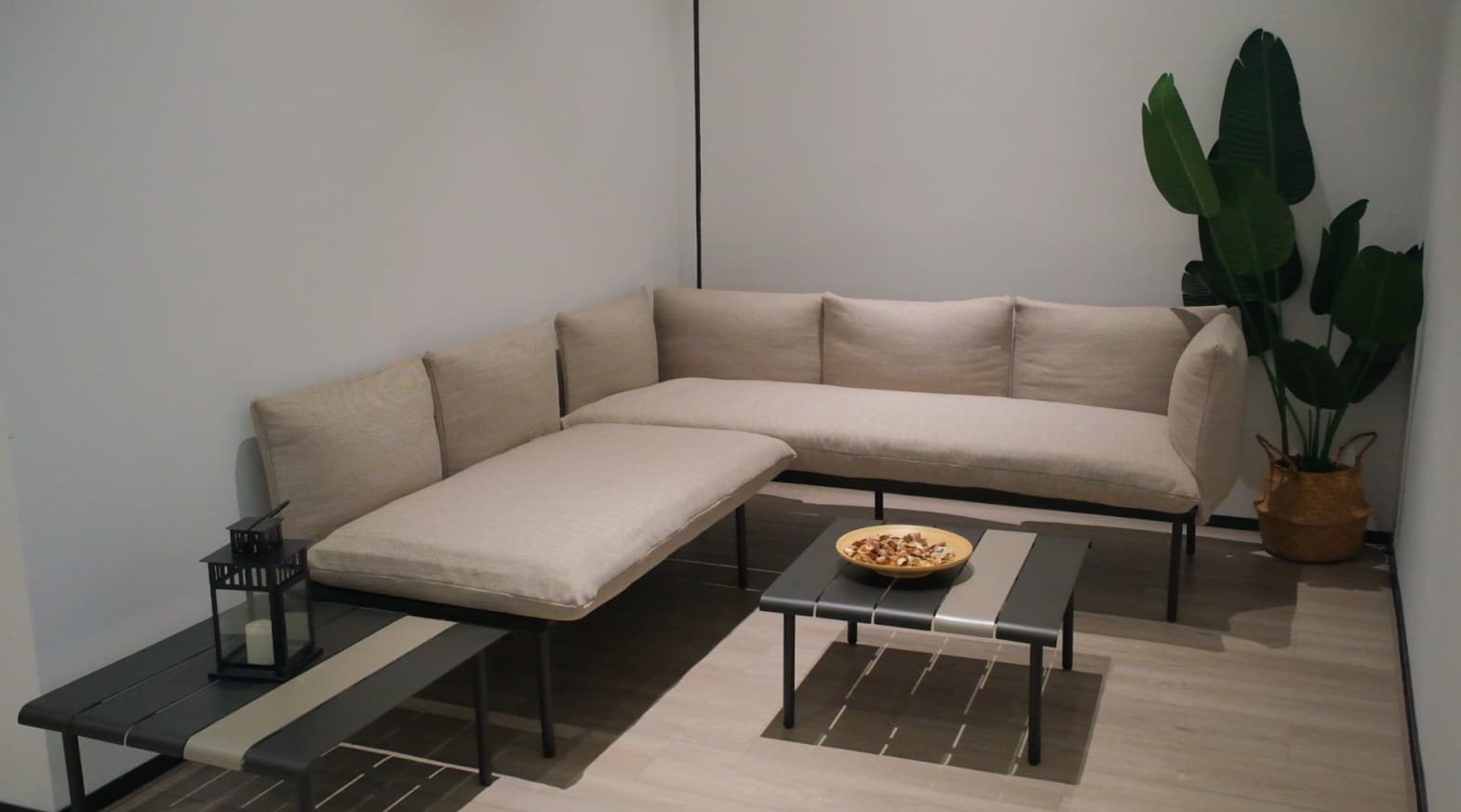 To get started with geometric outdoor furniture, start by looking out for new chairs and tables made from shapes like triangles or squares, or even diamonds.
You can then decorate your patio in other ways, too—use colorful pillows and blankets to add pops of color to an otherwise neutral tablecloth or create a patterned rug that ties into the colors of the rest of your outdoor space.
Combine Function and Style With an Outdoor Bar Table
There's nothing wrong with having an outdoor bar table that is as functional as stylish.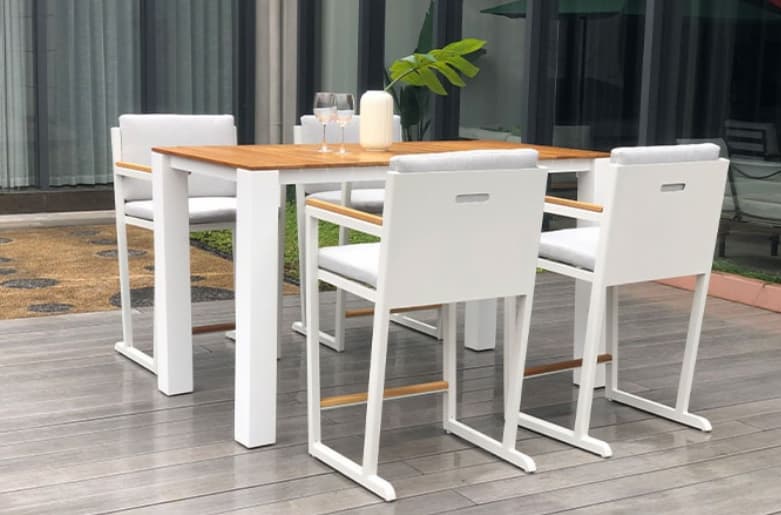 These tables are great for entertaining guests and serving drinks, snacks, and meals. If you want to eat a meal outside, an outdoor bar table would be ideal because they provide enough space for a comfortable seat while still leaving room on the table surface for food and drinks.
If you're looking for an easy way to spice up your backyard, adding one of these stylish pieces of furniture will help make your space more inviting.
Opt for Understated Elegance With a Minimal Bench or Two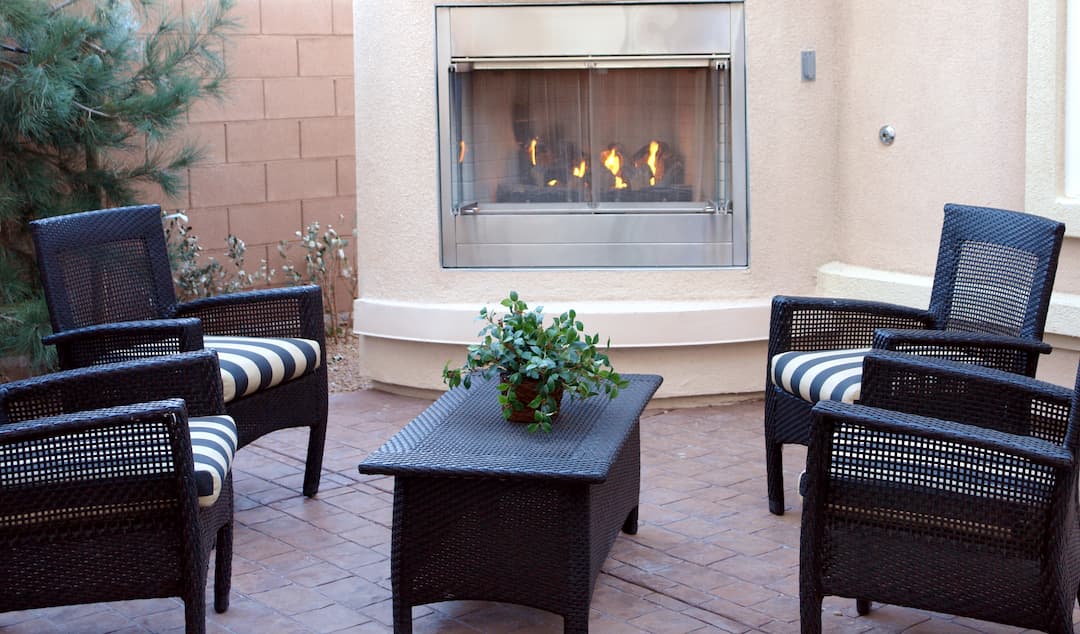 A bench is a great way to add seating to your patio. It can be used as a place to sit or a table, and its simple design will blend into any outdoor setting. A bench is an excellent source of versatility in any outdoor setting.
But if you have room, consider using two or more benches together for maximum effect.
One bench at either end of your dining table could allow guests to perch along the sides while others eat comfortably from their chairs.
The other bench on either side of your front door provides ample space for people entering or exiting without cluttering up that area with other furniture pieces.
Brighten Up Your Space by Adding Fire Elements
Adding fire elements to your outdoor space can be a great way to add warmth and light. There are many options for this, including fire pits, bowls, and outdoor fireplace designs.
Some people even like to use wood-burning stoves in their homes. Many contemporary furniture styles feature built-in heaters that can be turned on or off depending on the season and your needs at any given time.
Fire elements don't just provide heat—they also create ambiance. If you want to throw a party outside on a cold night, having an outdoor fireplace will make everyone feel more comfortable while eating dinner or mingling around the walkway between houses after dark.
Go Quirky With Mismatched Stools and Recliners
When you buy outdoor furniture for your backyard or patio, there's no reason why you can't be a little daring with it. After all, what's more exciting than seeing something unexpected?If you have eclectic tastes and can't stand things looking too matchy-matchy, consider going overboard with mismatched chairs and sofas.
This is also an excellent way to show off your personality—and express yourself through your decorating choices, even if you're trying not to draw too much attention from guests or friends that come over for barbecues or dinners at night after work.
Create an Intimate Setting With Bistro Sets
Bistro sets are particularly welcome in urban spaces, where premium space and intimate settings are desired. They're also great for small groups to gather around or couples looking to dine al fresco.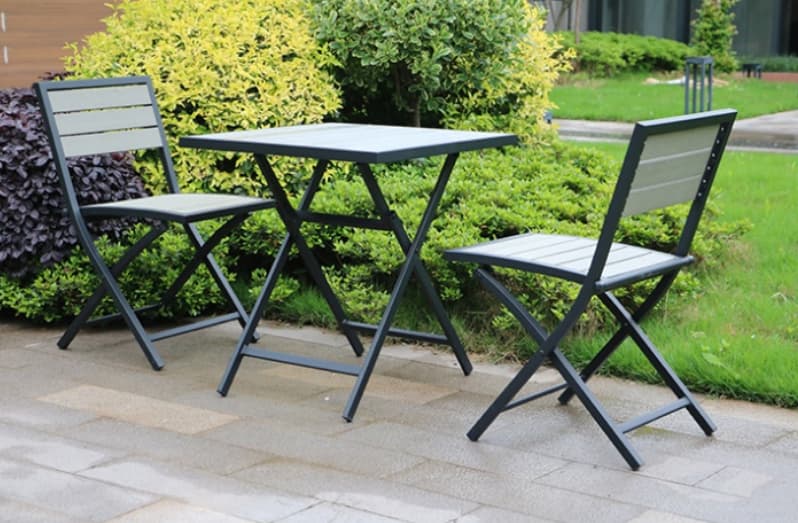 Bistro sets come in many styles and shapes, from classic French café tables with chairs to rustic wooden benches that seat two or four people or even more if you squeeze.The choice depends entirely on how much space you want the furniture to take up in your yard or your patio—and how many guests you'd like it to accommodate.
Add Concrete Accents for a Modern Look
Concrete is a versatile material that can be used to create a variety of accents and furnishings. Concrete furniture is a great way to add it to your home if you're looking for an industrial vibe.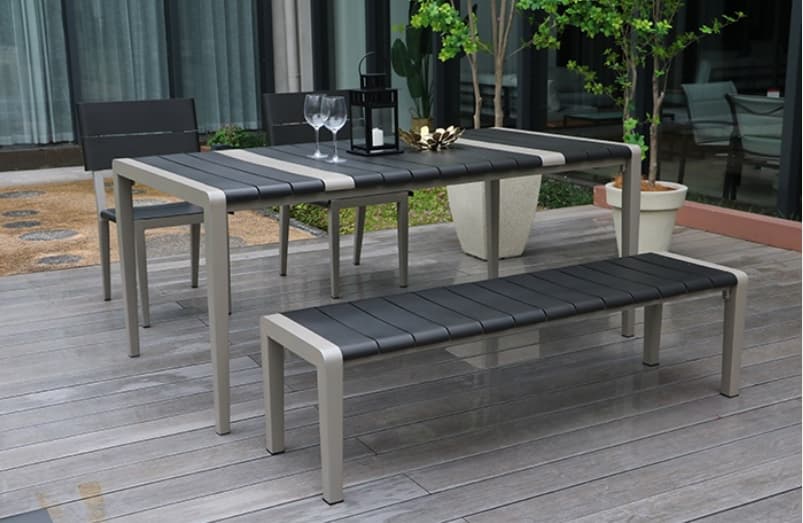 You can use large concrete slabs as the base for wooden tables or benches. You can also cover the top of wood patio furniture with thin layers of cement for a modern look and easy maintenance.Or you can create a planter out of cut pieces by placing them in rows and covering them with soil.
Hang a Swinging Chair as a Space Saver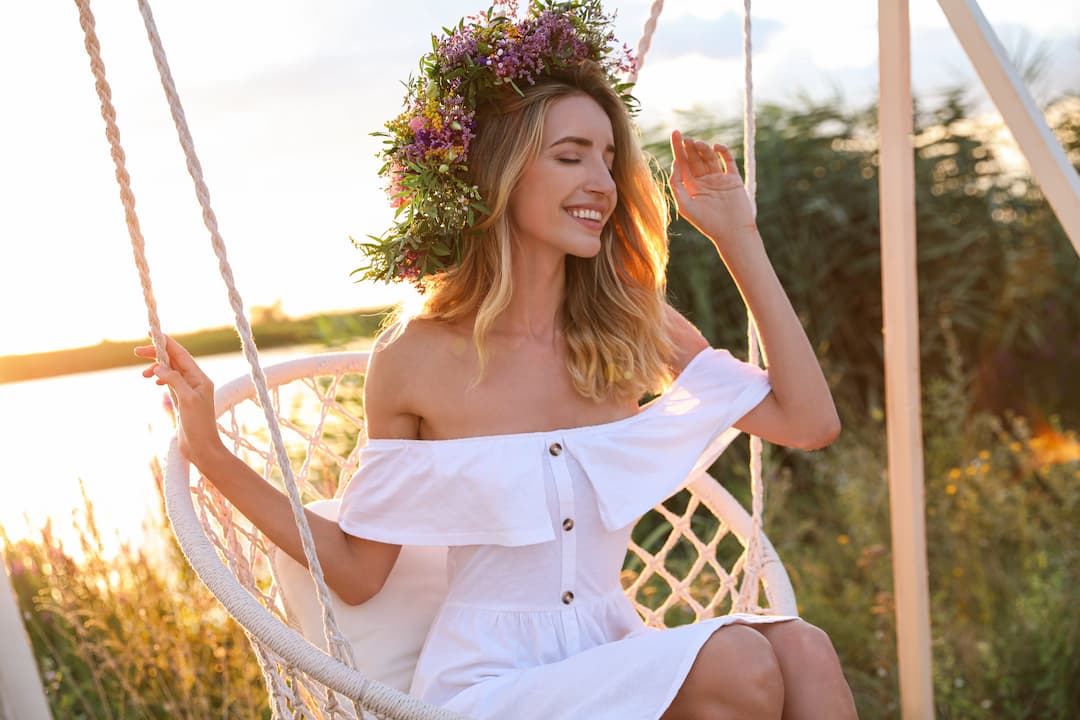 Your outdoor space is probably limited on space, and a swinging chair can help you save it. A swinging chair will add personality to your area and make it more comfortable for you and your guests.
You can use the swing chair as a reading nook or a spot to relax with the latest book.
You can also use it as an entertaining area to sit back and enjoy conversation with friends while sipping cocktails or tea. You could even use the swing chair in place of an outdoor bed, which makes it perfect for sunbathing.
Conclusion
The above are just a few of the many modern outdoor furniture ideas you can use to decorate your patio or garden.All these pieces will make your outdoor space look stylish and give you an extra reason to enjoy the great outdoors.
There are so many wonderful things to be done with outdoor furniture, and we're sure you can come up with some unique ideas to make your