While kid's playhouses are adorable and fun for children, they often do not come with any furniture. It may be easy to furnish your own home or backyard, but furniture for a playhouse is tricky.
This article features ten enchanting outdoor playhouse furniture ideas to inspire you and help you curate an amusing and comfy space for your child!
Indoor Camping
Kids who love the outdoors will go crazy for this adorable theme. Create a camping scene inside the playhouse, bringing outdoor fun into your child's playhouse.
The best part of this idea is that you can choose the most affordable but long-lasting pieces of furniture, like foldable chairs and steel outdoor furniture. You can also find fake campfires that light up to make the experience more authentic for your child.
They can eat smores and hunker down in a sleeping bag or lounge chair.
Put glow-in-the-dark stars on the ceiling so they can look up and feel like they can see the night sky. The beauty of this theme is you can get super creative with it. Add little stuffed animals you would see while camping, like squirrels, bunnies, or even snakes!
Wooden Layout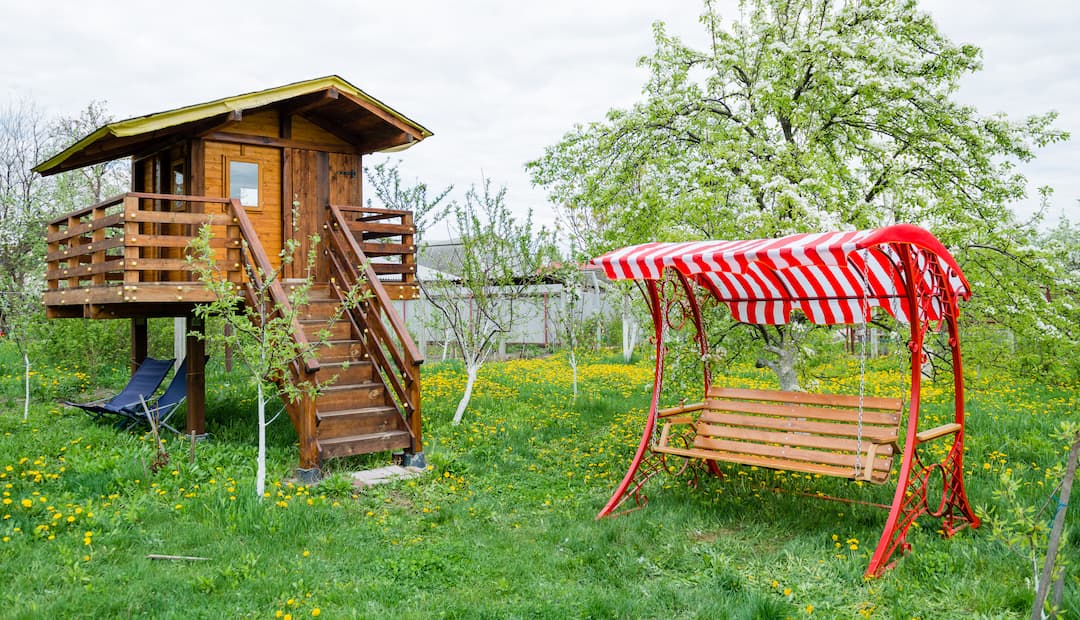 One of the easiest outdoor playhouse furniture ideas for rambunctious kids is all-wooden furniture.
Wooden furniture is durable, so it will last years of rough playtimes and kid accidents. While wooden furniture is sturdy and long-lasting, it is also attractive and inviting.
Many playhouses come with cheap, plastic furniture that is uncomfortable and unappealing. But you can fill an outdoor playhouse with a fancy-looking wooden dining table and cute wooden chairs, making your child feel like they have their own hours outside!
A mini picnic table or Adirondack chair creates an authentic furniture design that doesn't look lazy or low-quality.
If the outdoor playhouse itself is wooden, the wooden furniture will match perfectly and create a rustic aesthetic that won't make your backyard look unattractive.
Fit For a Princess
A more whimsical and fun furniture idea is to create a tiny castle fit for a princess (or prince).
You can find fancy-looking furniture with jewels or soft fabrics. This idea is especially perfect if the playhouse looks like a small castle!
Whether you buy all-pink furniture or opt for something more subtle and elegant, your child will adore the enchanting style. A princess-themed playhouse is a magical and exciting idea for kids, and some cute curtains or lovely furniture can step it up a level.
The easy part of creating a princess castle with your outdoor playhouse is you can more expensive furniture made of wood or metal, or you can opt for more affordable items made of plastic or fabric.
As long as you achieve the flair of a princess castle, it'll still be a fun spot for your kid to use their imagination and enjoy their own space.
A Fairy Cottage
If your little one loves everything magical, from fairies to trolls to witches, create a whimsical outdoor playhouse for them where their imagination can run wild! Fair furniture will be anything dainty and subtle.
Try to find soft pastels and cozy chairs conducive to the theme. Ask yourself, how would a fairy decorate? You can also take this theme in a different direction and add a witch's cauldron and rustic furniture to make a witches layer for your young spellcaster.
To add to the enchanting theme, string up fairy lights and either buy plastic flowers to decorate with or send your child on a hunt for the most beautiful wildflowers.
The fairy cottage theme is flexible as you can interpret it any way you want, and your kid can help. You can use as much or as little furniture as you want.
A Tropical Paradise
If your child is a beach bum, you may want to turn their outdoor playhouse into a tropical paradise! If you opt for this outdoor playhouse furniture idea, you can select more affordable pieces of furniture that encompass the casual vibe of a beach shack!
Easy foldable chairs with small side tables can be the perfect place for a child to imagine they are on a vacation in the Bahamas. Foldable chairs not only capture the sweet tropical vibe, but they're also versatile and convenient.
They can still be used if your kid wants to change the playhouse's theme or want more space for activities.
The chairs fold up neatly and can fit almost anywhere! Add some fake palm fronds or coconuts to increase the tropical vibe. You can even paste an ocean landscape on the wall to go the extra mile!
The Ultimate Pillow Fort
One of the best outdoor playhouse furniture ideas is the ultimate pillow fort. Just saying this idea to a child will get them super excited and eager to spend time in the outdoor playhouse.
To achieve this theme, you need to pack the playhouse with the coziest furniture you can find!
The super plush and comfy furniture will likely be more affordable, so even though this idea sounds luxurious and fun, it won't break the bank! Stuff the outdoor playhouse with fuzzy chairs and plump pillows.
Throw in some of the softest and most vibrant blankets you can find! You can also add some string lights or warm bulbs to make it the optimal place for a quick nap during playtime or a unique spot for a sleepover.
With this idea, you can make an outdoor playhouse where all your kids and their friends will want to relax and hang out.
Indoor Outdoor Movie Theater
A similar idea to the pillow fort theme is an indoor-outdoor movie theater.
If you have a sturdy outdoor playhouse and are a little tech-savvy, you can set up a projector against one of the walls and add loads of comfortable furniture.Your kids and their friends, or maybe you if you can squeeze into the tiny house, can watch movies in the cozy playhouse.
For this idea, you can stick with easy folding chairs or opt for more plush seating where everyone can snuggle and enjoy the movie in a fluffy chair.
Maybe you can fit small mattresses inside to enhance the experience even more. Letting your kids watch a movie in their playhouse will be a magical and memorable experience for them.
And what is more adorable than an outdoor family movie night in the decked-out playhouse?
The Cutest Kitchen
Any parents who have a little chef on their hands should turn the outdoor playhouse into the cutest kitchen ever. You can easily find fake child stoves and refrigerators to turn the simple playhouse into a kitchen.
Find some small chairs and a tiny table, and you have yourself a complete kitchen! This idea is fun for both kids and parents, as nothing is cuter than your kid bringing you a mud pie or grass soup they made in their kitchen.
Just don't eat any of it! A kitchen playhouse is unique and ideal for young kids who love to watch their parents in the kitchen.
With this theme, you can go as dramatic or as simple as you want. And you can also limit the kitchen stuff to one side and do whatever you want with the other side of the playhouse. However, this will depend on the size of your outdoor playhouse.
Tiny Workshop
On the other hand, if you have a child who is obsessed with power tools and building things, create a tiny workshop in the playhouse. A workshop is super easy to make.
Hang some plastic tools on the wall and add a wooden or plastic work bench.
Small stools or folding chairs will fit perfectly into this theme, and your little one will love hammering away and pretending to create things. Maybe they'll even try to make their own furniture for the playhouse!
A tiny workshop is easy to make, as you don't need to extensively decorate the interior, you just need a few sturdy pieces of furniture and a toy tool kit! But you can also fill the playhouse with loads of little toys to make it feel as authentic as the workshop in your garage!
Artist's Studio
If you have a young artist who loves doing crafts and painting, you can turn the outdoor playhouse into an eclectic artist studio. You can find tiny easels and add a sturdy table so your little one can create beautiful drawings or sculptures in their own space.
This theme is similar to the tiny workshop, as you can buy loads of supplies or stick to the basics. Hanging things on the wall or building shelves will The up the space.When buying tiny furniture for the playhouse, try to find vibrant colors and bold pieces that will be inspirational and artistic.
For this idea, you can never have too much color!
Final Thoughts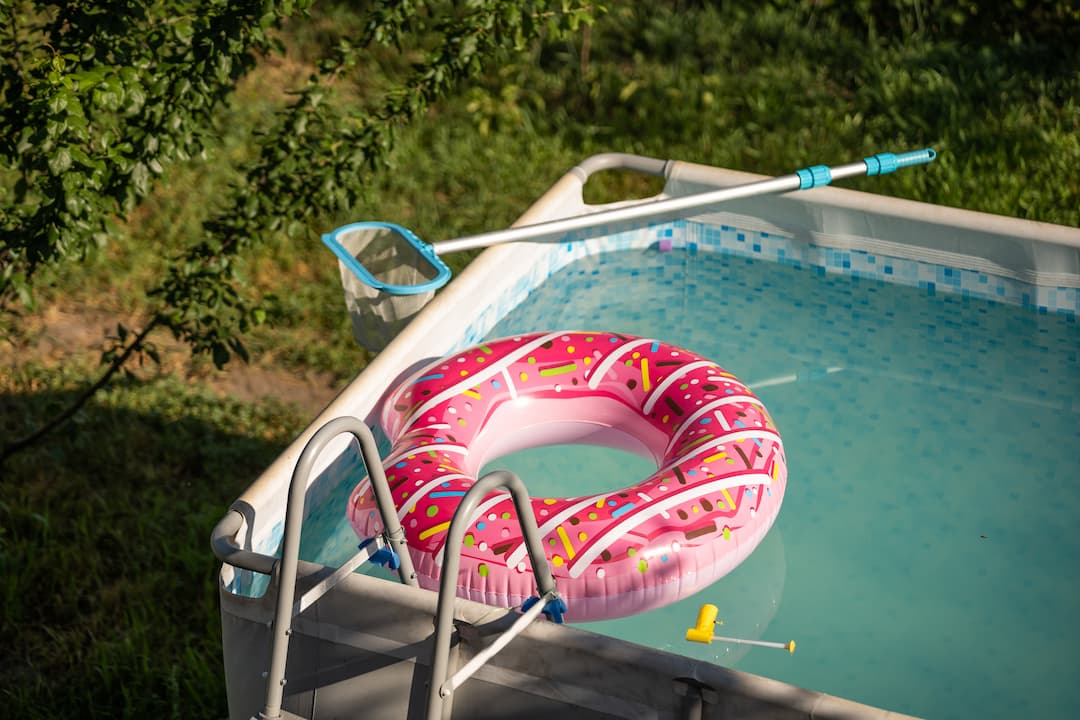 The best outdoor playhouse furniture ideas may come from your child! Ask them what they want the playhouse to look like or discuss some of the ideas in this article with them to see what they like.
Hopefully, these ten unique ideas inspired you to find some wonderful furniture to make your kid's playhouse spectacular.