Spicing up a front or back porch, patio, or deck is sometimes a lot more difficult than it first appears. Contending with factors such as climate, space, or many people's preferences is hard enough, but a fun design project can become a total nightmare if you don't know where to begin.
Choosing porch furniture or patio furniture isn't only about style and aesthetics either; you need to get something that suits your functional needs, too.
To find the best setup, you need to weigh the form and function of any idea with your house situation.
While it might be nice to add a couple of couches and a table for when friends come over, you may only have room for two chairs.
Below I have curated 11 outdoor porch furniture ideas to get you started on your outdoor living design journey.
I've also linked some furniture sets that match each idea and may help give you a better picture of what you're looking for.
Outdoor Porch Furniture Ideas
While many people showcase design ideas based on furniture styles, colors, or aesthetics, I don't think those categories are all that helpful.
After all, you already know your favorite color, what styles you do and don't like, and what the design aesthetic of your house is better than anyone else.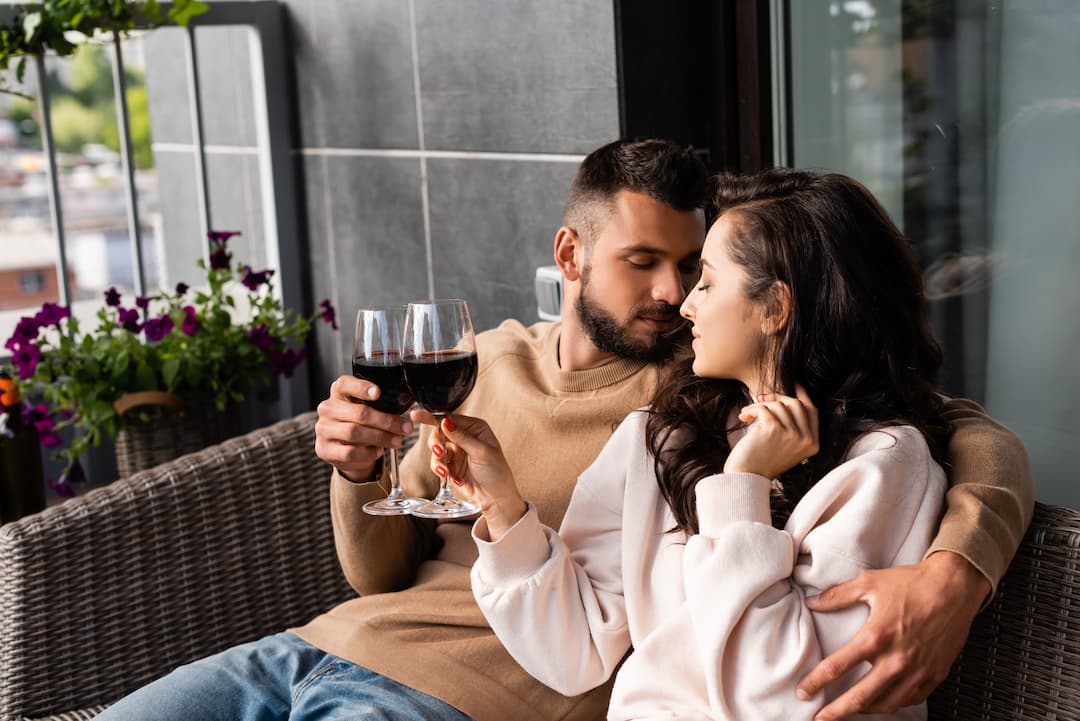 Instead, I decided to showcase outdoor porch furniture ideas based on function. I've categorized the following 11 ideas based on how you can use them and where and when they work best.
So, without further delay, here are 11 outdoor porch furniture ideas to spice up your home.
Sunday Barbeque
Porches don't have to be home to a couple of potted plants and an overworked carpet; you can also incorporate them into your Sunday barbeques.
Whether you like to gather the neighbors or keep it in the family, a modern aluminum picnic bench is a neat way to capture the barbeque vibe.
As outdoor furniture goes, picnic benches are also a lot easier to clean than upholstered furniture, especially when they're made of metal.
Soaking up the Sun
While it often seems the standard, no one says you have to have the basic table and chairs set on your patio.
This is your space, to do with as you please, and sometimes that means putting in a lounger or a porch swing.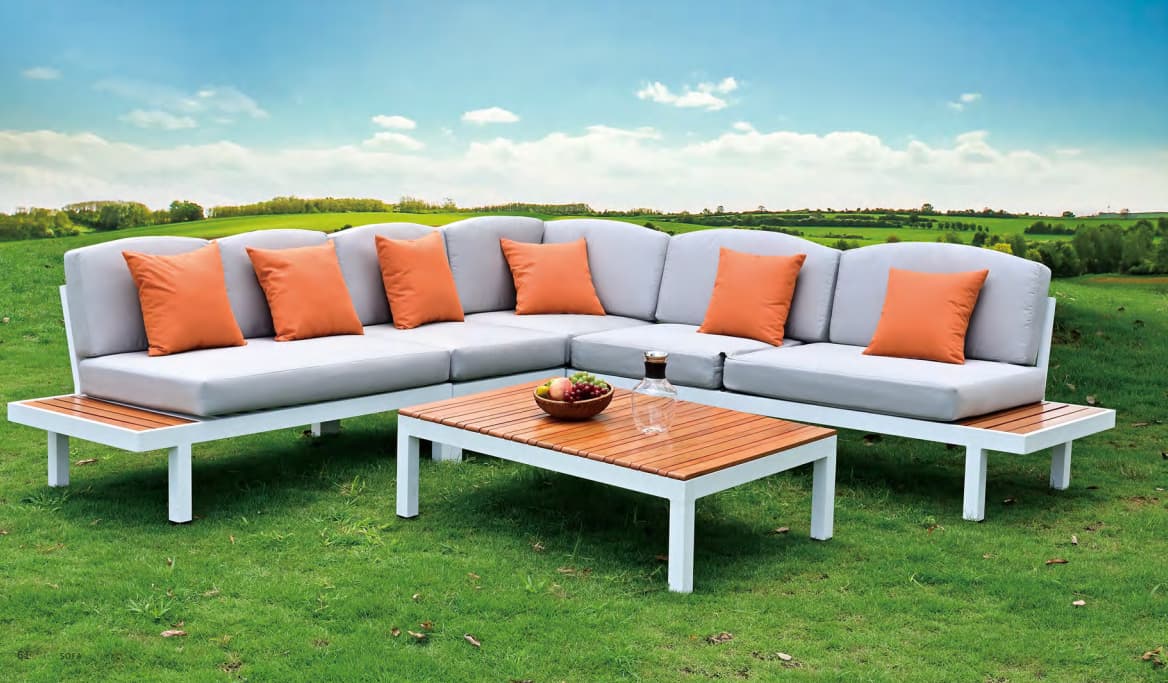 Outdoor chaise lounges are a lovely way to enjoy the breeze and catch a few rays. They offer variable sitting positions and can double as a couch if need be.
Sometimes all you want to do is sit on your patio and put your feet up, and who am I to stop you?
Evening Parties
Modular furniture is fabulous for rearranging a space, but it can get a bit messy with lots of people shifting around.
The often-overlooked L sofa is ideal for people who frequently have guests.
The L shape of the sofa helps bring everyone closer and contain conversations while still feeling open and roomy.
Rocking Retirement
If you're looking to live a comfortable retired life, I recommend adding a couple of outdoor rocking chairs to your porch setup.
Wooden rocking chairs are nice and all, but they don't hold up outside as well as steel rocking chairs do.
Rocking chairs are ideal for small and medium porches as they help you feel less trapped but still let you enjoy the space without overcrowding it.
Family Yard Time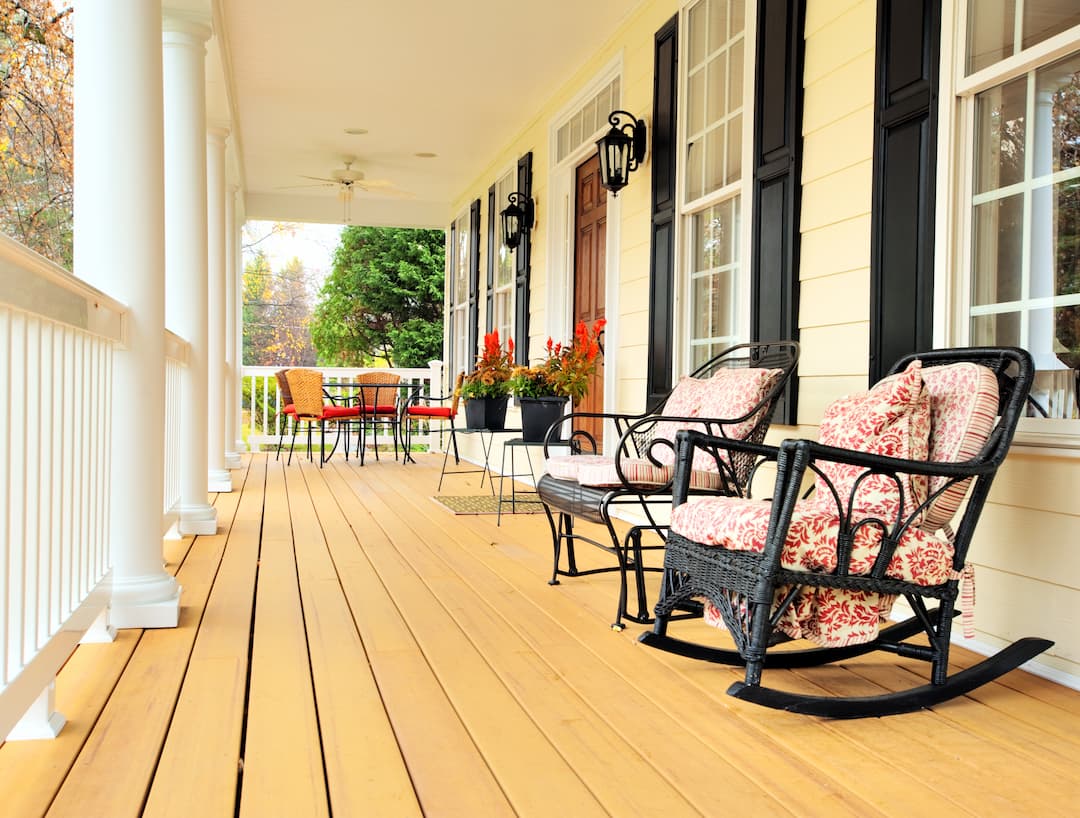 For a front porch, back porch, deck, or patio, nothing is better than a colorful family-sized set.
Whether you have a horde of toddlers or a couple of teenagers, getting everyone together outside is a lot easier when you have somewhere for the whole family to sit.
Practicality is also vital when it comes to family furniture, so you need something easy to clean and move.
Getting a combination of couches and chairs is best as it can corral or separate your kids as necessary.
The Conversation Pit
One of my favorite porch designs is the 70s-style conversation pit or modular furniture set.
Gathering a collection of the comfiest loveseats around a couple of mismatched tables creates the perfect cozy environment to cuddle up and have a conflab.
I like this KD Sofa Set as it checks all the boxes and is customizable to fill different porch spacaes.
It's all about adjustability when it comes to a conversation-based layout.
You need to be able to pull the seats back to allow people to bring in more chairs or pull them closer for more intimate and private talks.
Space-Saving and Simple Living
If you're lacking in space, nothing is better than the classic folding table and chair set. It's simple and highly functional, turning even the smallest of outdoor spaces into usable areas.
Not only is this an excellent way to furnish a small porch, but it fits on apartment balconies too.
The proper dining-height table allows you to eat, read, draw, game, or converse outdoors in comfort. It's a much more functional furniture set than a shin-high table.
Personal Spa Day
I think my ideal design for a porch would look a little like this: two reclining chairs with thick cushions and separate footrests sandwiching a small table.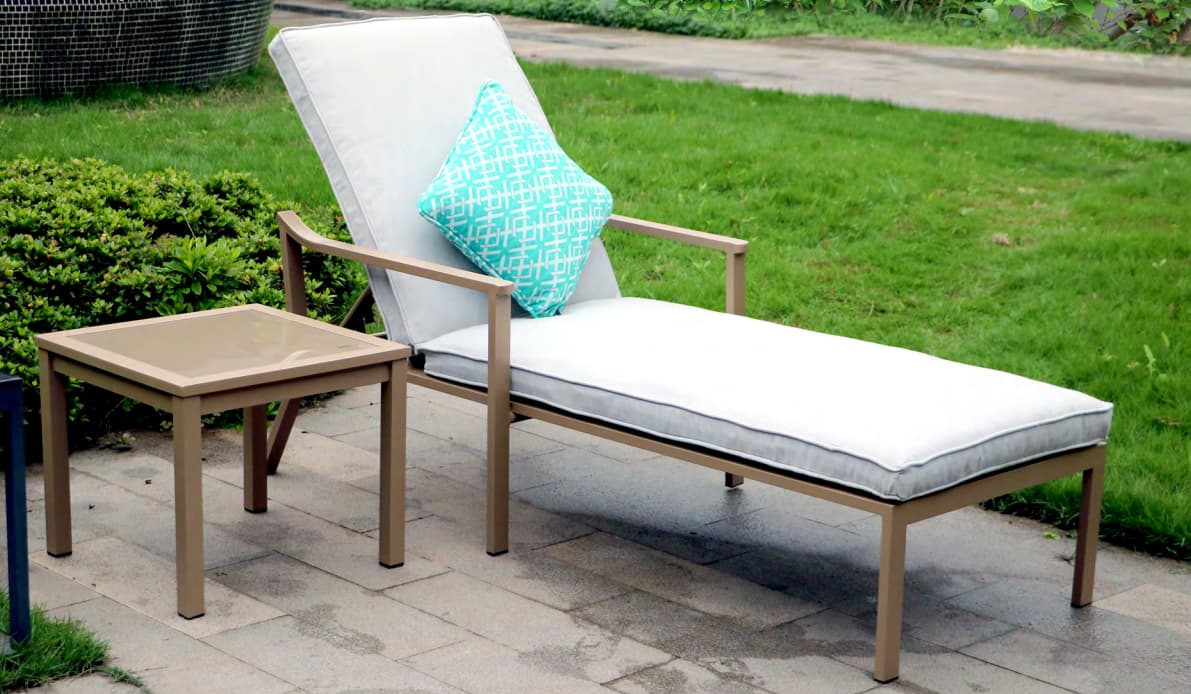 I love this design as it creates the perfect oasis for you and your partner to take a breath away from the stresses of the day.
You can fit it comfortably on a semi-enclosed porch, a back deck, or beside a pool.
Dinner with Friends
One of the most basic functions of a porch is to create a space to eat outside.
If you have a deck or patio with a little more space, you may enjoy this chic wood and aluminum dining set.
It's the ideal blend of indoor and outdoor, with soft seats and wooden accents but a solid and sturdy base.
It's a good size for a medium space and gives you just enough room to dine comfortably without feeling squished or taking up too much room.
The Hobbyist
No matter the space you're working with, making room for hobbies is always a priority.
A small enclosed front porch is just as good a place to crochet, read, or do crosswords as an open backyard.
The Aluminum Outdoor Chaise Lounge Set is a perfect example of the type of furniture that could facilitate hobbies.
It's slightly reclined, lets you put your feet up, and comes with a side table to rest items on.
I wanted to include this set as my mum uses something almost identical when she knits out on the back deck.
Accessories
We can't forget about accessories when it comes to designing a porch.
You may want to add something as simple as a potted plant for a pop of color or an extra folding table for a bit more surface area.
Outdoor blankets are also a good choice, especially if you like to spend evenings outside. Extra cushions are a good idea if you find your furniture could do with some more padding.
One of my favorite ways to add to a porch design that most people usually ignore is wall art.
It can be something simple like a metal garden decoration or a fancy outdoor clock. If you have the room, you can even add umbrellas or canopies for some extra shade.
Design Tips
Here are a few extra design tips to help you figure out exactly what you want to do with your porch space.
● Be realistic about how much space you have to work with.
● Base your needs on what you already like to do outside, not what you think you will do once you get the right furniture.
● Don't be afraid to mix and match.
● Always leave room for extra people. One or two more seats than you, the number of people in your household, is a good starting point.
● Be realistic about the weather. What furniture will or won't hold up?
● Similarly, do you have room to store it if you have to bring it inside in winter?
● Decide if you want modular, fixed, foldable, or permanent furnishings first.
● Realize that most outdoor furniture has very limited color options.
● Visit neighbors and friends to see how they furnish their outdoor spaces.
● Make sure the furniture won't get in the way of doors, walkways, or vistas.
● Don't be afraid to get creative with space and styles.
At the End of the Day
At the end of the day, finding the right porch furniture is about two things: form and function.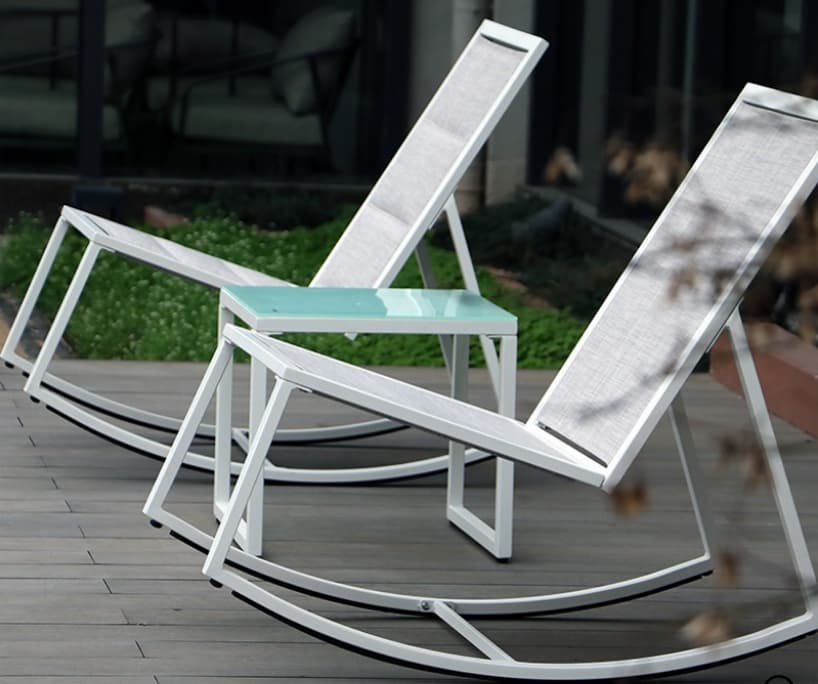 Find something you like the look of that fits in the space, but also try to imagine all the ways you could use that furniture in the future.
Whether you like to host parties, spend quiet evenings alone, or watch the sunrise with that special someone,
porch furniture allows you to bask in fresh air and sunlight without leaving the comfort of your property.
The space around your home is yours to use, so use it well.